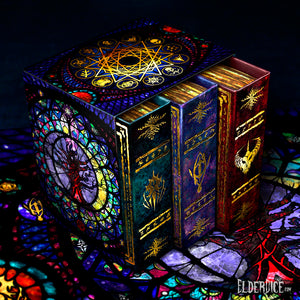 Dice Slipcase - Transcendence of the Traveler
Regular price $8.99 USD $8.99 USD Sale
Display your collection of Elder Dice in style with this Mythic slipcase featuring the art "Transcendence of the Traveler" by David LaRocca. The story told in stained glass depicts the Traveler as he enters the Black Tree. Some say that during certain celestial events the illumination reveals even more of this mysterious story.

This amazing slipcase has gold foil and spot gloss that gives it a stained-glass look.
This product is only the slipcase. It does not include the Elder Dice grimoires. It is designed to hold three of the Elder Dice grimoires without the cardboard sleeve wrapper.