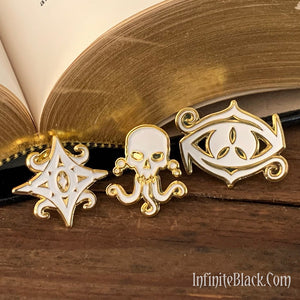 Colors out of Space Complete Collectable Enamel Pin Set
Regular price $35.98 USD $35.98 USD Sale
This collectible set of enamel pins is the perfect way to show your admiration of those things that slither from dark corners that humanity was never meant to know. This set contains all three of our Lovecraftian designs from the Colors out of Space Kickstarter campaign:
the Star of Azathoth
the Seal of Yog-Sothoth
the Eye of Chaos
Wear these pins on shirts, backpacks, or hats with pride. Or, display them on your desk or shelf.
Now, get all three pins for the price of two through this very special offer.
Each pin is approximately 1 inch in length and has a butterfly clasp. Each pin is individually numbered to guarantee its uniqueness. Get yours today for the lowest numbers possible.